click above to visit the very first post on HalloweenOverkill, one year ago to the day!
Today is HalloweenOverkill's first birthday!!! To commemorate the occasion I thought I'd take a trip back to the beginning. For anyone that has been following since day 1 you will remember that my very first post was a huge shout out for the Alice Cooper/Rob Zombie Gruesome Twosome tour! I cannot stress to you enough how much I love Alice Cooper and Rob Zombie, easily my two favorite musicians of all time. The fact that they were touring together was something to behold. Unfortunately I didn't get to make any of the shows, however this year I will make amends. If the stars align I will be seeing Alice Cooper in my hometown of Detroit. (Detroit is also Mr. Vincent Furnier's (the Alice Cooper) hometown.) The two aren't touring together currently however they are doing their own thing this summer. So one year later to the date I am yet again updating everyone on the tours from the amazing Alice Cooper and the one and only Rob Zombie. As a side-note and a very large shout out I would like to mention that the original Alice Cooper group was inducted into the Rock and Roll Hall of Fame this year! To revisit the very first post from HalloweenOverkill one year ago to the day please click the link at the top of the post!
The "No more Mr. nice guy Tour"
click the pic to visit the official Alice Cooper website and get info on tour dates and links to purchase tickets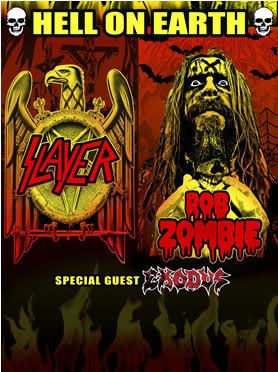 The "Hell on Earth Tour" also featuring Slayer
click the poster to visit Rob Zombie's official site for tour dates and links to buy tickets