Got an alert in my inbox last night that told me to pre-order Dark Shadows on blu-ray! Apparently it is being released on October 2, 2012! I had no idea this was coming out so soon, but here are the covers for both the blu-ray and DVD.
Dark Shadows Blu-ray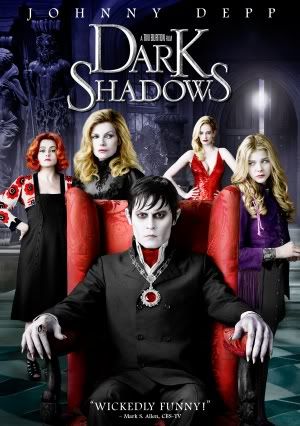 Dark Shadows DVD
Here are some of the special features that are included with the blu-ray version (my preferred video medium)
-Maximum Movie Mode
-The Collinses: Every Family has its Demons
-Becoming Barnabas
-Welcome to Collinsport
-Reliving a Decade
-Angelique: A Witch Scorned
-Alice Cooper Rocks Collinsport!
-Dark Shadowy Secrets
-A Melee of Monstrous Proportions
-Dark Shadows: The Legend Bites Back!
-Six Deleted Scenes
-A bonus copy of the film on DVD
-A bonus Ultraviolet digital copy of the film
The blu-ray will also feature high definition video and audio as well.
I don't know about you, but even with some of the negative reviews that major sites have given the movie, everyone who I personally trust that had an opinion said the movie is definitely worth seeing. I know I'll be picking this one up come October! Will any of you be buying it as well?