Lollipop? Really? Give me a chance ghouls I think you'll like it. One of our favorite new horror icons wielded a lollipop as his weapon so why not give him some love in the A-Z Blogging Challenge?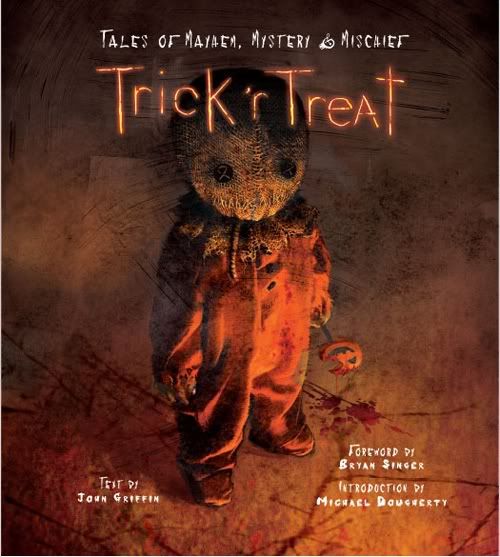 Yes, I'm talking about Sam from "Trick R' Treat" Trick R' Treat is another movie that I was so critical of when I finally got to see it. I remember the day it finally came out on DVD I rushed to Walmart (yuck, but the only place that carried it by my house) and the whole time I waited in line I was thinking about the high hopes I had for the film and all the crazy good reviews I had read. But after watching it I was kind of like "that's it?" But.......... after several re-watches and cleansing my mind of what other people had said about it I realize what a masterpiece this film is. It is definately required Halloween season viewing and to be quite honest is a must watch on the actual night along with Halloween I, II, & III. ( want my Halloween season required viewing list?)
If you haven't been to the Trick R' Treat official website you should check it out by clicking
here
, it is one hell of a website!
I want to remind everyone to come by HalloweenOverkill later today (since it is after midnight, thats Sunday April 17th) at 9:00 P.M. and pick a number (or register your own account) to sign into the live chat on the right side of my blog because I will be having a giveaway for Hysteria Project 2 for the iPad!!! Also I will be catching up on some of the posts I missed this week including the letter M which I'm pretty sure you won't want to miss. Want a clue? It's a body part! Actually it's two body parts! HAHAHA Come back to see it unveiled tomorrow and don't forget 9 o' clock sharp be on the live blog chat on the sidebar for the giveaway. ( we will be doing horror trivia for the codes!)