Happy 4th of July! I'd like to first thank everything and everyone that makes this country so great, including all the troops who risk their lives everyday to uphold our beliefs and the freedom we sometimes take for granted.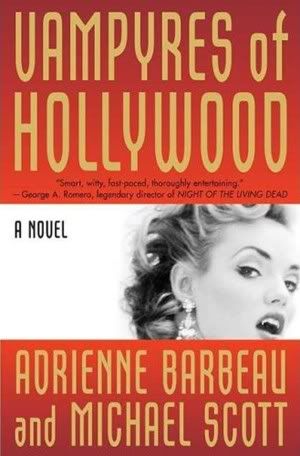 So before we get to the contest I'd like to share something I found in my closet yesterday while packing up for the move to PA. I believe most of you share my fondness of Adrienne Barbeau, the legend from such classics as
The Fog, Swamp Thing,
and
Creepshow!
Well as I was packing up my book collection I found the book featured above,
Vampyres of Hollywood
, which was co-written by Adrienne and Michael Scott. The book is a tale of murder and mystery involving the deaths of several people connected to a Hollywood scream queen who also happens to be a 500 year old vampire. I took a second to flip open the cover and guess what I found? An aunthentic autograph from Adrienne Barbeau herself!!!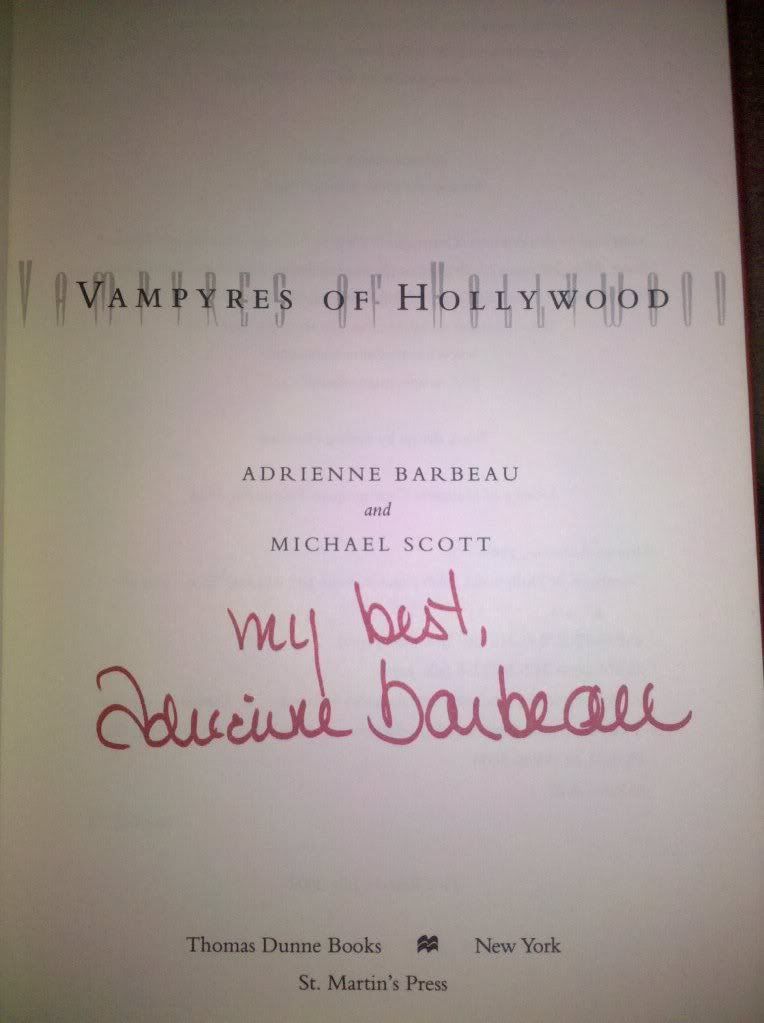 This must have been one of those copies that Borders Books sometimes has hidden on their shelves that has been actually autographed by the authors. So unbeknownst to me I was the owner of an autographed copy of Adrienne's book. Crazy the things you find when cleaning or packing up your apartment.
OK now for the first annual 4th of July contest/scavenger hunt. Hopefully this blog will be around for many more Independence Day celebrations so that we can actually say that it's an annual thing. Up for grabs this time are two copies of
Darkwalker
!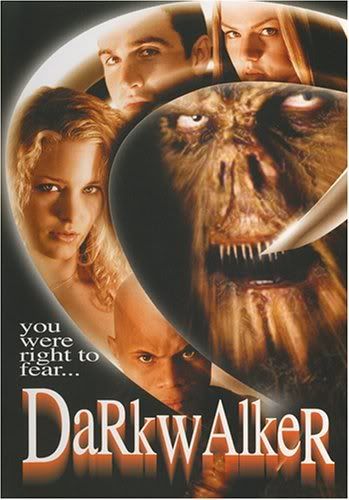 Here's the lowdown on
Darkwalker
from the back of the DVD case:
It's Halloween at Hobb's Grove. Seven teenagers start working as tour guides in a haunted amusement park. When they begin to disappear, one by one, they discover an unspeakable monster that walks the grounds. Can they unravel the mystery of the Dark Walker before it's too late? Directed by Danny Draven and produced by Chuck Williams, this film begins a new chapter in terror.
To win this contest you're going to have to work a little bit more than the last giveaway. (Hopefully not too much work, but hey it's a free DVD right?) Here are the rules and legal mumbo jumbo for the contest.
HalloweenOverkill's 4th of July Scavenger Hunt Contest
1. You must be a follower of this blog. If you aren't yet just click the follower tab up at the top right.
2. You must have a mailing address within the US (due to cost restraints, I can't ship the DVDs outside of the US).
3. You must answer these three trivia questions correctly and post your answers in the comments section:
* Which Hollywood summer hit movie featured the mask from Darkwalker? Hint: the answer can be found at the official Darkwalker site by clicking here
http://www.darkwalkermovie.com
* Earlier somewhere on this blog I reviewed another Chuck Williams produced film. Find the post that featured this film's review and tell me what Jolly Jack-O-Lantern rating this film received. Hint: click on the DVD button on the sidebar and go from there!
* Finally, find the badge/link to my new HalloweenOverkill Facebook page and click on it. Once you're over at the new page, find the Super Secret Password and that is your answer to this third and final question. Of course, it wouldn't hurt to "like" the HalloweenOverkill facebook page as well although it is not required for this giveaway...
4. Don't forget to leave your email address in the same post that you answer these questions in so I can contact you if you win.
5. If more than two people answer all questions correctly then they will all be entered into a contest winner generator and drawn at random.
The deadline for this contest is Saturday July 10th at 11:59 P.M. ESTWinners will be contracted by email and DVDs will be shipped to the address provided by winners. I take no responsibility for damage during shipment but will do my ultimate best to make sure they get to your doorstep in as good as condition as they left my home. I'd also like to thank Chuck Williams for providing these DVDs for the giveaway, you can visit his official site at
http://www.chuckwilliamsfanclub.com/
If anyone has any problems posting their answers in the comments section, email me at halloweenoverkill@gmail.com