It must be getting close to that time of year now! Look at the surprise my wife brought home for me yesterday!
This is actually the first box of FrankenBerry I have ever owned. Came a little late to that party didn't I? I know, I know all you guys probably own at least 4 or 5 different versions of these badboys right? I don't know what has kept me from ever buying boxes of this horror related cereal but now I can proudly enjoy a few bowls of spooky breakfast deliciousness and then add the box to my horror museum. (now located in the spare bedroom) I was going to do a comparison but realized somebody already has so I won't steal their thunder but take a look at the box and tell me that FrankenBerry doesn't have a totally unholy likeness to Al Franken. On a sidenote if anyone from General Mills is reading this will you please take that terrible information bar off of the front of our collectible cereal box please! Do they not realize that us horror fans even collect horror themed cereal boxes? I guess not. Here are some of the different FrankenBerry box covers over the years.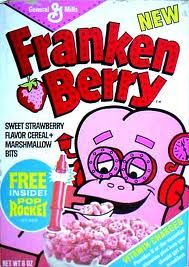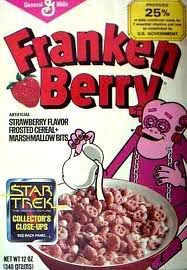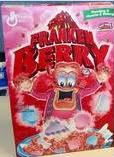 Credit for these photos goes out to the original photographers.
Did you also know that other than the 3 famous current versions of the General Mills Monster Cereals; Count Chocula, BooBerry, and AlFrankenBerry (Al, if you are reading this I'm sorry, love your work but you do look too much like him!) there were 2 discontinued flavors of the cereals as well?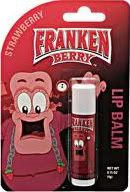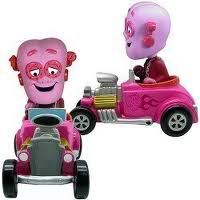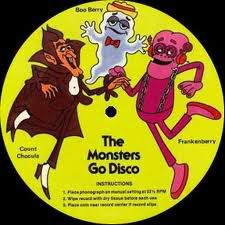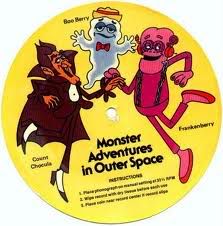 OK so I have to say it, Holy Santa Claus Shit! There were actually cds made with songs based on the monster cereal characters or were these just the songs that each monster chose to be representative of themselves on each cd? I guess I'll never know because these cds are like the holy grail of monster cereal collectibles. I don't have them but if you do and are willing to inform me of whats on them or at least somehow put them somewhere where I can listen to them that would be epic! So is that enough FrankenBerry and crew for you? No you say? Well as we get closer to the upcoming holiday I fear you may be seeing more of these bad boys in the upcoming
HalloweenOverkill Halloween Countdown
! Oh and by the way did you realize we are actually in double digit countdown days now, 98 as of today to be exact! It wont be much longer until the the weather starts cooling down and the leaves start changing, and then...... well you get it. (This post was written very early in the morning and was not shown to my editor haha so please excuse any errors)