Well I figured it was time to create a little feature on my blog that I could call my own. Some of my favorite blogs out there each have their own little feature that they have created and I figured it was time to throw my hat into the ring. So without further ado here is the new HalloweenOverkill feature of the week. (scroll down to see the title card!)
(a little further)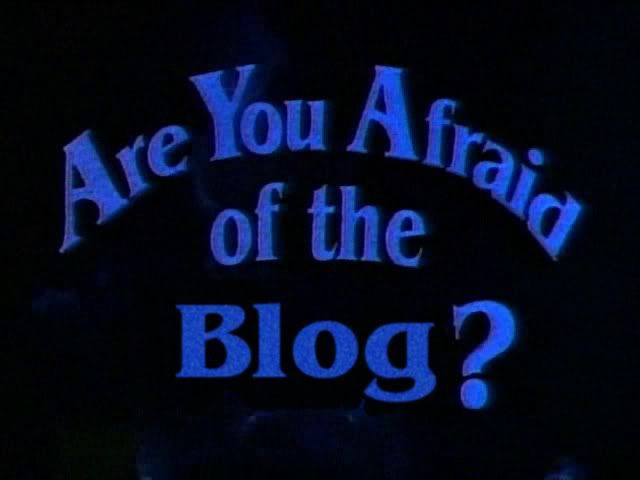 Some of you are probably wondering "all the hype over that!?" But you must understand that Are You Afraid of the Dark? was THE show to watch as a growing child-young teen in the '90s. The show featured a creature of the week style format and had tons of guest stars on the show before they were big time celebrity faces. While each of the episodes had a certain "cheese" factor to it, many of the episodes oozed atmosphere and mood that other shows we had growing up just couldn't capture. I will be reviewing each and every episode--from the show's pilot until the very last aired episode--which believe it or not span a complete decade. That's right: the show was good enough to be kept on the air for over 8 years. I'll start tomorrow with a brief rundown of the entire series and then we'll go from there reviewing an episode per week, or more if you're feeling up to reading them. Something else I'll be reviewing will be the AYOATD? computer game. That's right folks, this little gem was something I kept from all those years ago and still is a pretty pricey catch on Amazon and ebay. The going price looks to be about $35.00 which is pretty costly for a PC game from about 15 years ago. Hopefully I'll have some other little surprises to write about concerning some more Are You Afraid of the Dark? juicy goodness. So there it is, the show that holds a special place in my heart for keeping the spookiness alive each and every Saturday night during my youth now has its own little corner of the web here at HalloweenOverkill.
This special feature is not to be confused with the long abandoned
afraidoftheblog
blog site, and yes the idea for this feature and it's title was created by my wife and I before we knew that site existed. If you are the author of that blog and are reading please email me.