I'm still not quite sure why there are things from my childhood that I can't let go of. Maybe it's just that comfort that it gives you when remembering the old times. These kinds of memories help to get over realizing that those time are gone forever and we can't bring them back. I'm sure all of you ghouls feel the same way about many things from your childhood as well. One of the things that I fondly remember while growing up were the amazing promotions that the larger companies used to do. I can still remember going to Vegas Food Center and just standing in awe at the cutouts of Frankenstein and Dracula and Elvira. (I think I stood and looked at hers the longest, you with me gentlemen?) These were the signs that my favorite day of the year was upon us and that in the time waiting for that day to come we could enjoy the splendors of free Halloween goodies - with the purchase of several unnecessary food products. One of the promotions that stands out the most in my head was the Coca-Cola Monsters of the Gridiron promotion. Now growing up an athlete and sports fan along with being the world's biggest Halloween/Horror fan (we all have that title right?) this one really struck a cord with me, I mean come on Coca-Cola had the marbles to mix two of the greatest things on the planet for us! The effort that went into the makeup on some of these guys was on some serious Hollywood shit. Instead of listing them all you can view them here in the full set.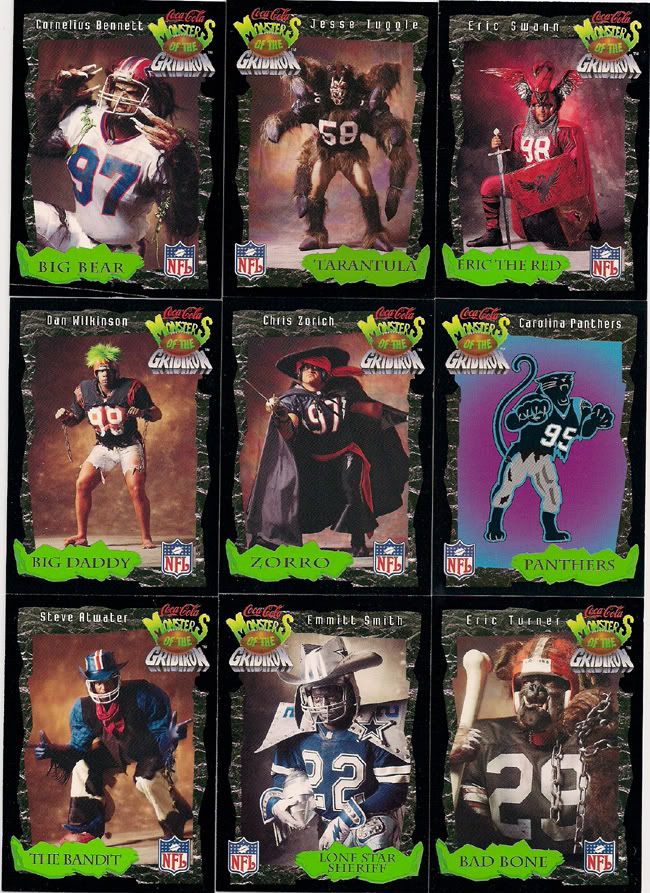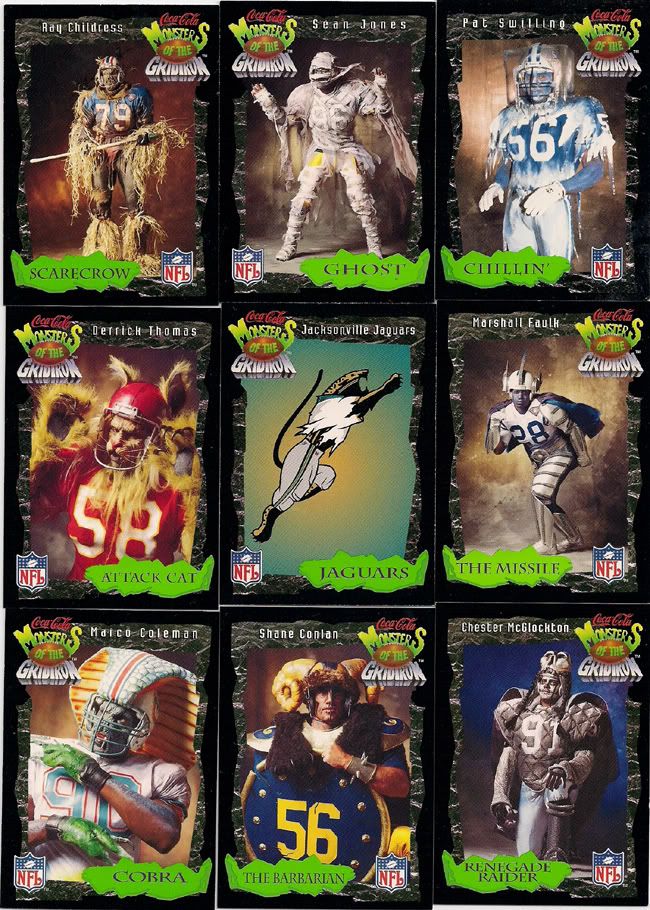 Since I was born and raised in Detroit and will always be a Detroit fan, Pat "Chillin" Swilling (as seen above) was my favorite card in the set which I sadly no longer own.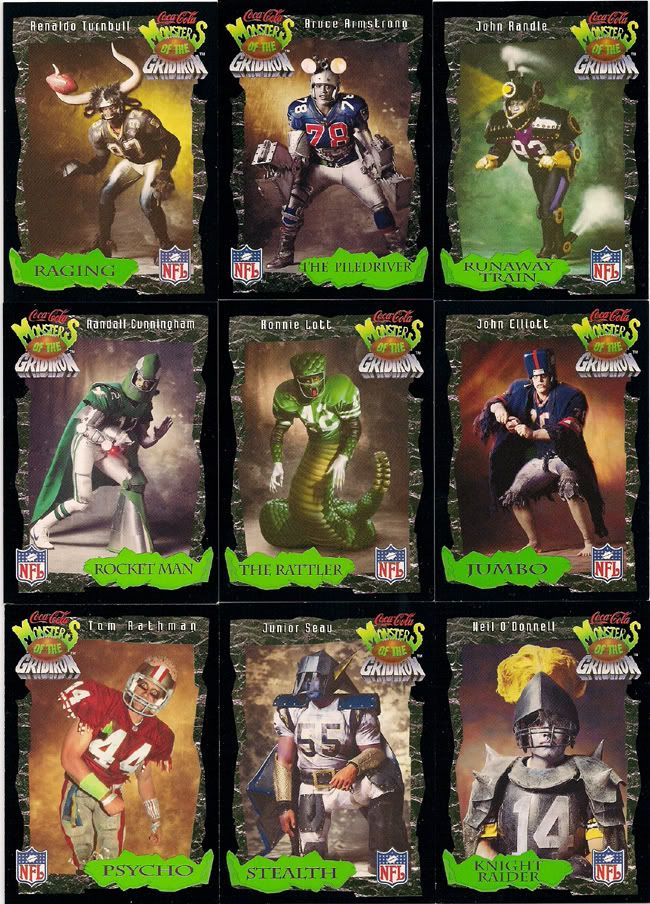 Sorry about the small size ghouls but I couldn't get them to fit properly at any other size.
I love how the two new teams at the time received no love and just got their logos stamped on the cards. Another cool thing I totally forgot about the promotion was that you were also given a number and code with some of the Coca-Cola products that you could call and listen in on some of the player's pre-recorded messages for a chance to win a trip to the super bowl. They also came with scratch off cards to win extra prizes such as pre-paid long distance phone cards.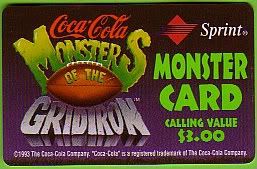 In addition to the set seen here there are people on ebay who claim to have completed a set with different numbered cards and cards featuring totally different players. Was this another set altogether or some set of rare variance chase cards? If anyone knows please let me know. Wow, this is really bringing me back to the better days. Anyhow, Emmitt Smith seemed to lead the commercials if I remember correctly and I believe was even featured on the radio ads that were used to promote the cards themselves. Speaking of the TV commercials and radio ads, I believe I should get credit for finding the only thing to not exist on the internet. You'd think someone, somewhere would have posted either the TV ads or the radio commercials somewhere, but to the best of my knowledge they do not exist at present. But back to the story. I really wish Coke would either bring this back with some modern players and costumes even though they were well ahead of their time when this promotion came out in 94', or at the very least some of the bigger corporations out there need to start doing massive Halloween marketing campaigns such as this again! I really do miss Halloween of yesteryear. Look for more old school Halloween marketing and promotions in the HalloweenOverkill Halloween Countdown coming soon!
I would like to thank photobucket user eef97, I used his pictures of the full set and could not find a proper way to contact him. If you are reading this thank you, and let me know if you want them taken down. (I uploaded them to my own account to save your bandwidth.)
So you know that alternate set of cards I was talking about, I did find some photographic evidence on photobucket to prove that a THIRD type of card exists with a different Monsters of the Gridiron logo up in the top corner that was holographic instead of just a color print. I know I sound like I should work for Coca-Cola promotions as much as I'm obsessing over this but like I said I really loved this promotion as a child so it really brings back some fun old memories to write about it. And please if anyone can explain or investigate the difference between the three different sets that would be awesome and please email to let me know any information on this. So we have the original set of player monster cards, we have a second set featuring some different players and monsters (or at least this is what is claimed) and a third set with a holographic Monsters of the Gridiron logo also seen above, what gives?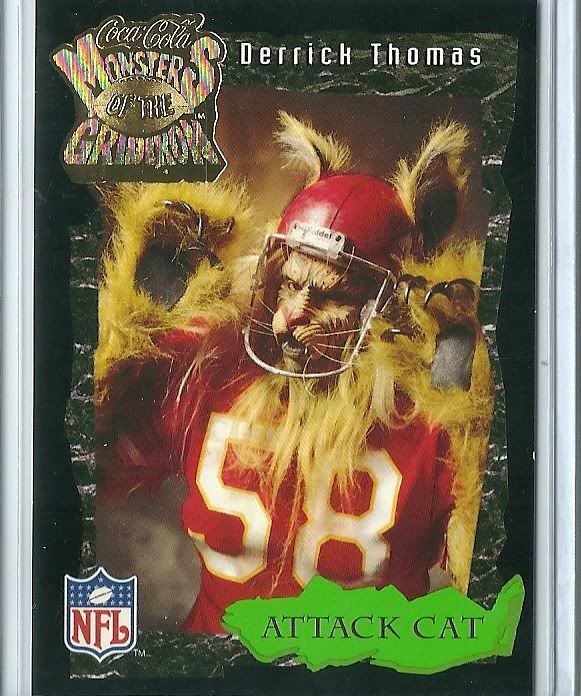 Credit for the photo above goes to Arrowheadchief found on photobucket again let me know if you want these taken down or if you yourself have any info on these magnificent Halloween collectibles.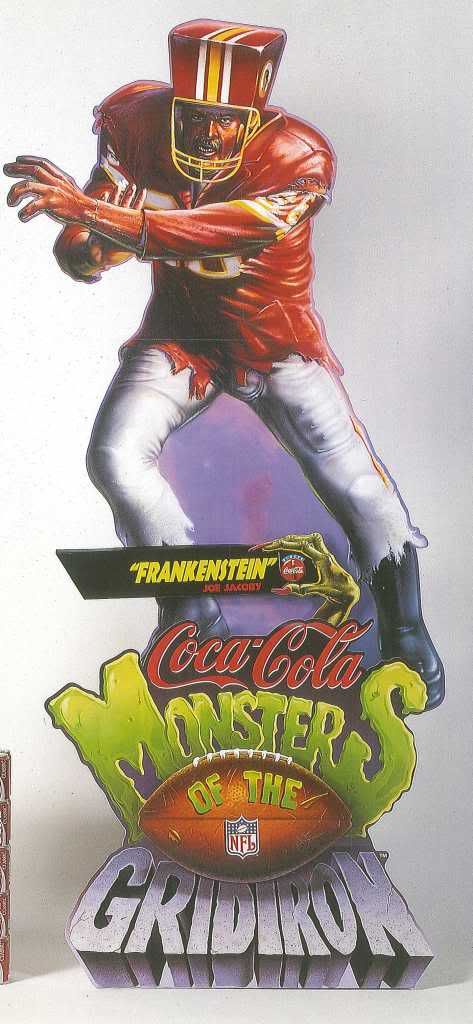 One of the Cardboard stand-ups used in the promotion - credit for this photo goes to the Redskins Blog over at http://blog.redskins.com/