WARNING: Prize photos not safe for work or children. No total nudity but pretty damn close, just a warning!
Come one, come all to HalloweenOverkill's first fantastic, freakish, fiendish, frightful, f-in giveaway! On the menu today we have some epic trick or treats for you to sample from the awesome guys over at Wild Eye Releasing. Here's what you can win in this giveaway and how to do it.
1. Become one of my followers of this site (following me on twitter would be sweet too, but not required) over there on the right -------> (If you don't know how, then you aren't eligible. Just kidding! Throw me an email at halloweenman666@gmail.com)
2. Comment on this post and tell me what your favorite death scene in a horror movie is. You must also leave your email in the post to be eligible.
3. Go visit the guys over at Wild Eye and check out their catalog of films including the upcoming
Night of the Living Dead: Reanimated
(this is not a must but it would be nice to check their site out anyways).
4. Everyone who becomes a follower and then comments on this specific post right here will be entered and drawn at random for the grand prize using Random.org to ensure fairness.
5. Contest ends June 6th, 2010 at 11:59 E.S.T.
Now on to the good stuff, here is what is up for grabs in this giveaway:
1. Two
Goth Kill
stickers
2. A Wild Eye logo button (about the size of a nickel)
3. A set of big promotional photos from the Wild Eye film
The Bloody Ape.
This set also includes a nice shot from a scene in the film which was autographed by the director Keith J. Crocker and the star of the film George Reis (the 2nd photo is the one not safe for work or children in case you were wondering).
4. A copy of
Goth Kill
on DVD!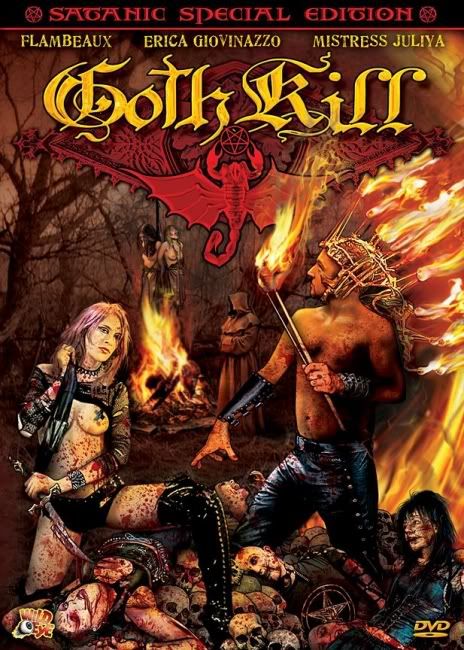 Here is a description of the film straight from the back of the DVD case:
When Catholic priest and inquisitor Nicholas Dread finds out that innocents are being burned as witches he decides to do something about it. Unfortunately for him, his superiors don't agree and he is burned at the stake along side two women he forced confessions from. While dying, Nick curses God and makes a pact with Satan to reign over his own kingdom someday at any cost.
Now in 21st century New York City, Dread has returned to finish the deal. His end of the bargain with Satan must be fulfilled, and many will die so Dread can take the throne in his kingdom of over 100,000 corrupt souls. He just has to find the right bunch of victims... And it just so happens the best goth club in the city is ripe for this bloodthirsty butcher bent on revenge!
Can a group of Goth's and wannabe vampires hold their own when the real thing arrives?
The winner of this giveaway will have these items shipped to them in a padded envelope. The picture cards including the autographed one are inside of a plastic slipcase.
Abandon All Hope Ye Who Enter! (And good luck also.)