Earlier it was Spirit Halloween, now I bring you the Bath & BodyWorks Halloween collection. Well, some of it anyway. Now you may be asking yourself, "What is a hardcore ghoul like him doing checking out Bath & BodyWorks?" Well if you must know, it is a place that is one of the "must visit" stores during mall trips with my wife, and in doing so I have actually come to enjoy some of the scents of their products. If said products also come packaged in Halloween themed dispensers then count me in! Oh, and if I need to justify myself anymore B&B does actually sell several products for men. Anyways, I'm sure there are several other Halloween fans out there, male and female, that don't mind picking up some of Bath & BodyWorks seasonal wares. If you're looking for any recommendations, here are the few that I think are the best of their "stuff" this year, but this is by no means the entire collection. To see the entire collection, click the link at the bottom of the post.
"Sour Drop" hand stuff, and yes the bottle glows in the dark.
I'm obsessed with glow in the dark "stuff" in case you are a new reader.
"Sweet Cinnamon Pumpkin" hand soap.
Not the scariest packaging ever, but it's still pretty cool looking.
"Spiced Cider" room spray.
I think every ghoul on the planet loves spiced cider scented stuff, especially when you can make your whole room smell like it, and the bottle is pretty neat as well.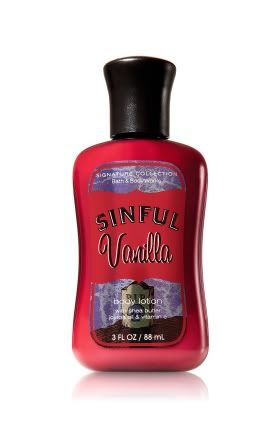 "Sinful Vanilla" body lotion.
Not one dude on Earth will be buying anything labeled "Sinful Vanilla"
but I still think the bottle and vintage text are cool anyways, haha.
Haunted House Wallflower
Now this thing is a must own! Couple this with a "Pumpkin" or "Spiced Cider" scent
and you have yourself one hell of a Halloween decoration. Oh yeah and it glows in the dark!
"Sour Drop" Hand Sanitizer
Again not much use for myself, but you can't complain about the
awesome Halloween theme packaging.
"Gum Ball" Hand Sanitizer
Really curious what this will actually smell like once my wife buys it,
which is inevitable once these hit the stores. (She's a total Halloween nut as well!)
"Chocolate Chew" Hand Sanitizer
All 3 of these are cool packages, however they really don't compare
to last year's bottles. Oh, and by the way, why the hell did they decide to forgo the Marshmallow
scent from last year, I'm pretty sure that was everyone's favorite? (Maybe I'll post some pics of last year's bottles in a Halloween Countdown 2011 post?)
WOW! Never in a million years did I think that I would dedicate a post to Bath & BodyWorks! Oh, well I guess it never hurts to get in touch with your feminine side right ghouls? Seriously though, for my gal ghouls out there, this stuff should have you pretty excited. And for the ghoul dudes out there, maybe I just made it that much easier for you to pick out some Halloween gifts for your honey. Hope you really enjoyed this post because you'll probably never see hand lotion, hand sanitizer, or anything titled "Sinful Vanilla" on this blog ever again. HAHA