Had a few leftover Halloween images that never really made their way onto the blog, so I thought I would share a few of them with you ghouls. So here we go with a little leftover Halloween action........
That my creeps is one terrible thing about the Halloween season, seasonal allergies. And there we have blown out optic nerves due to those wonderful allergies.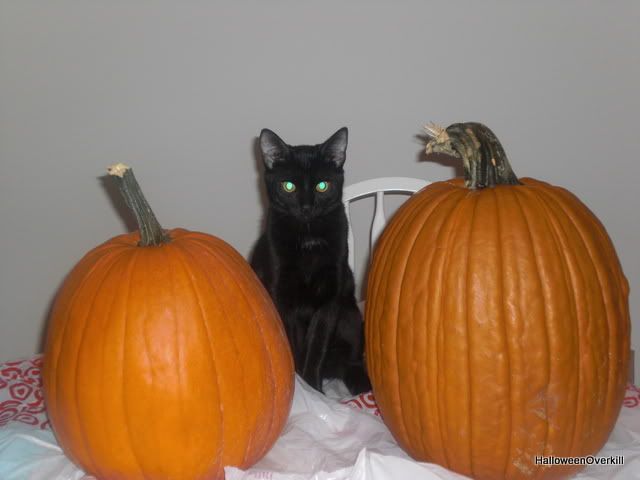 This was the beginning of our pumpkin carving odyssey, and yes the kittens decided to show up to party also. As you can see Dracula (one of our kittens for you new ghouls out there) just couldn't hide his excitement for pumpkin carving any longer.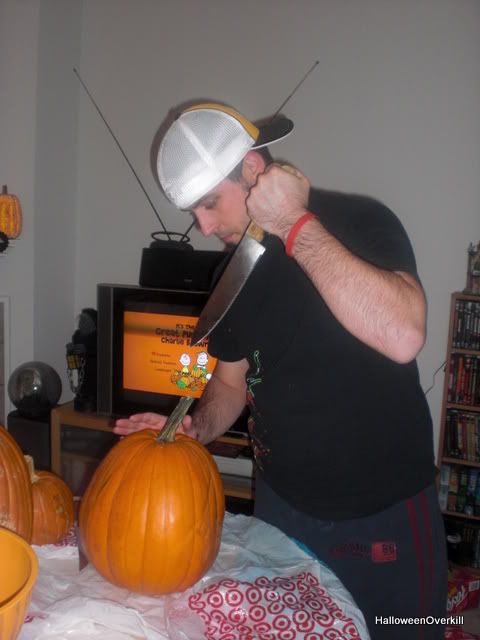 The night "he" came home........
This was really bizarre. If you look really close at the pumpkin it actually looked like it had a spinal cord made out of pumpkin seeds. If you didn't notice it, scroll back up and look, totally freaky!
After gutting the pumpkins I decided to break out the big guns this year, a dremel, yes you heard me right, A f'ing DREMEL!!!!! If that is not HalloweenOverkill, I don't know what is. I originally got the dremel as a Christmas gift from my parents last year to use for different Halloween projects I had in mind. Pumpkin carving was not one of the projects I ever considered using the dremel on, obviously as you can see though, I decided to go professional pumpkin carver with the dremel.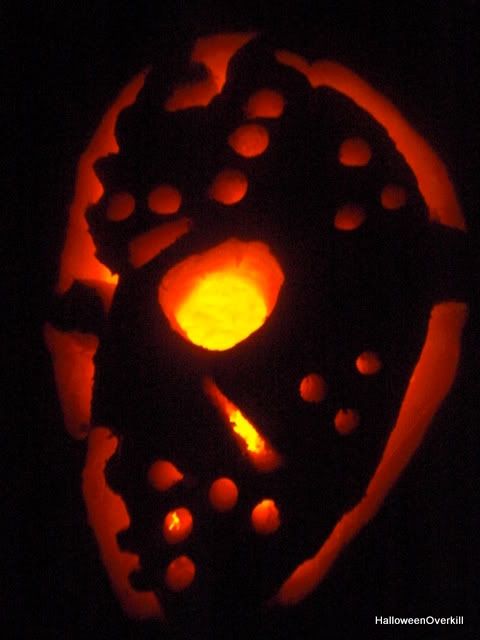 The finished product! Not something I would have even attempted with just a knife or some carving tools. Aside from the dremel, I used a really awesome "Pumpkin Masters" pro carving kit I got as a gift from my buddy and his wife! (still didn't come out as awesome as I thought, but do they ever? Oh well, as they say in Cleveland, "there's always next year".)
This was my wife's finished product, which might I add turned out to look totally awesome. I also would like to add that her pumpkin was carved with nothing but a single carving tool. No knives, no cutters, and no dremel, just "the little seesaw thing" as she refers to it as. HAHA As I am writing this my wife looks over at me and says, "I'm awesome, I went old school on that pumpkin." I don't get into that new fashioned stuff" HAHA Yes my wife is that awesome!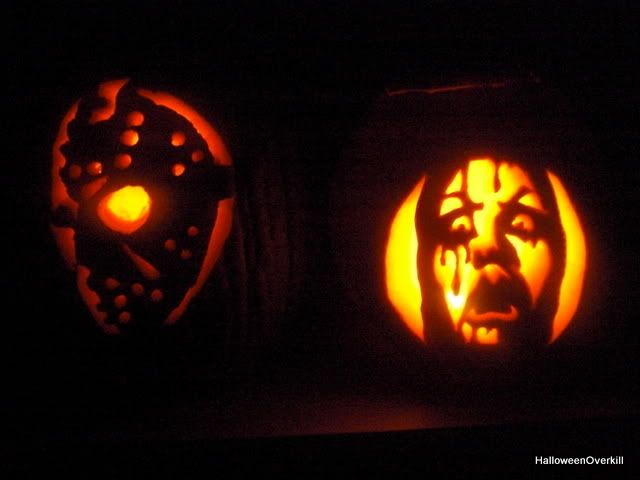 The pumpkins next to each other. We dubbed them "Jason and the survivor girl" (or Alice if you will)
May I state again how awesome my wife is? These creepy cupcakes she made had edible eyeballs!!! Can it get any better? Yes it can, see those severed fingers? EDIBLE ALSO!!!!!!!!!!!!!!
More awesome Halloween Cupcakes. Worms in dirt cupcakes, and the worms are the awesome sour neon ones that make your brain bounce into your skull walls after just two bites.
For any of you ghouls out there who have followed HalloweenOverkill from the beginning remember when my wife and I got the kittens. Well I thought I'd give you some more recent pictures of the boys. For an updated pic of Dracula just scroll back up to the pic of him hiding in the pumpkins. Below is a recent and absolutely adorable pic of Roxas sleeping in my palm after my crazy crazy black friday hospital trip. (about his name Roxas, yes, I am obsessed with Kingdom Hearts)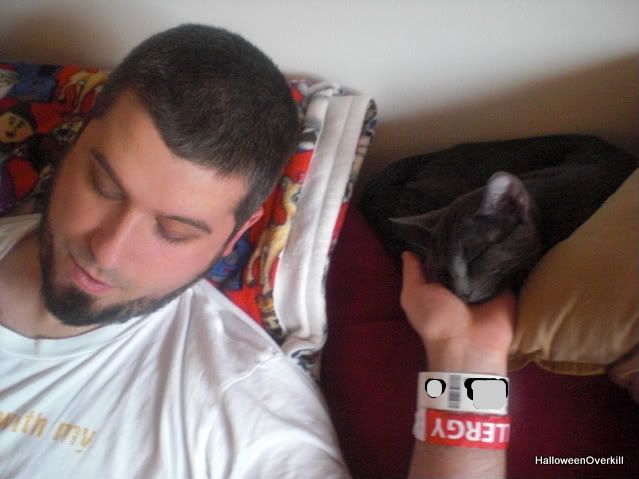 And here is one more updated picture of them together!