Tonight we're gonna keep it simple and keep it clean. I want to briefly talk about Halloween Anthologies. I don't know about you ghouls but sometimes a good Halloween themed yarn can topple a Halloween themed movie. Maybe it's because the tale that is being told on paper allows us to envision the surroundings and atmosphere as we see fit and not how some shoddy director sees it. Below you will see a partial list of some of the Halloween themed anthology books that are currently sitting on my horror themed bookshelf. This is not an exhaustive list of everything out there but just the ones that I currently own. Oh and by the way I implore you to please leave comments below on any Halloween themed anthology collections that I am missing, as I would love to do some Amazon shopping and pick up some more. Again I will remind you ghouls that these are not Halloween themed fiction novels, but anthologies. The Halloween themed novels will be another post later down the road. So without further ado, the first post in the HalloweenOverkill Halloween Countdown 2010! First up we have,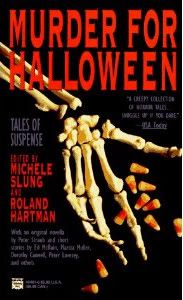 "Murder for Halloween"
Edited by: Michele Slung & Roland Hartman
BOO!
From the fog-enshrouded back alleys of London to a cry in the woods, from a black cat's glowing eyes to a knocking at your door, once every year they run wild: goblins, ghosts, pranksters, and things that go bang in the night. Sometimes it's only a trick. Sometimes it's murder.
The fiendish collection brings together the scariest and most unforgettable stories ever told, both classics and new works by the greatest names in mystery. From a haunting story set in ancient Rome to a mysterious tale-within-a-tale told by an enigmatic jazzman and set in the American South, from Poe to McBain, Muller to Straub, welcome to All Hallow's Eve. And hold on for morning.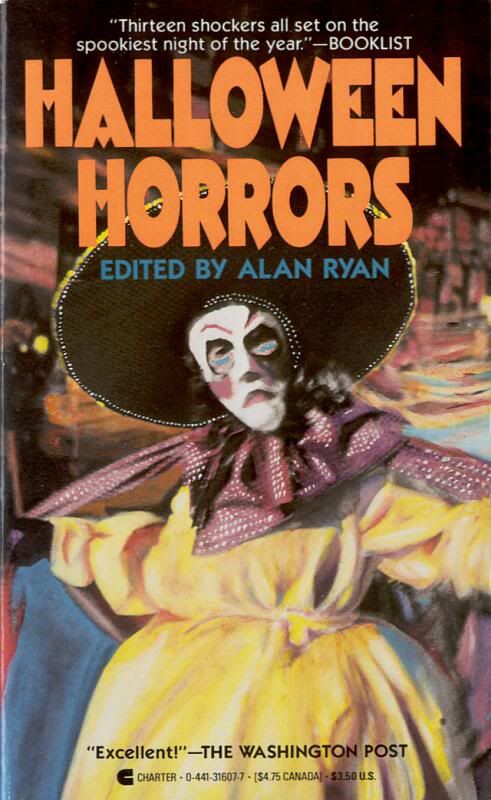 "Halloween Horrors"
Edited by: Alan Ryan
It's Halloween night. And you-a brave soul, indeed-are reading the most terrifying collection of Halloween stories ever written...
Thirteen tales by today's most frightening storytellers. You turn each page, your heart pounding in your chest. You are afraid. Deeply afraid.
Then the doorbell rings. You jump up to answer it. And there, standing on the dark porch step, a lone figure reaches up, pulls a colorful mask from his face-
And scares you...to death.
TRICK OR TREAT!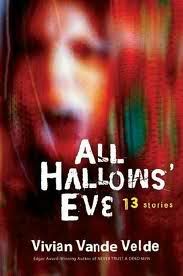 "All Hallows' Eve" 13 Stories
By: Vivian Vande Velde
Witches are dancing.
The dead are walking.
Vampires are feeding.
For tonight is All Hallows' Eve.
A deceased serial killer strikes again, a girl becomes trapped in a centuries old mausoleum, and five friends meet their fate after an unsettling visit with a backwoods psychic-all within the pages of this haunting collection of stories that take place on Halloween night. With tales that range from the disturbing to the devious to the downright gruesome, here is a book that begs to be read with the lights on...and the doors locked.
"13 Horrors of Halloween"
Edited by: Carol-Lynn Rosssel Waugh, Martin Harry Greenberg, and Isaac Asimov (yes THAT Isaac Asimov)
A killing frost is on the pumpkin, a ghostly harvest moon hangs in the midnight sky of All Souls' Eve, and thirteen tales of murder and the macabre make "13 Horrors of Halloween" a perfect withes' brew of short story suspense.
As the clock strikes the witching hour, Ellery Queen invites you to a mysterious masquerade to witness a bloody crime. Edith Wharton lures you to a remote and lonely spot to watch what happens on the night when the dead can walk. And Ray Bradbury (yes THAT Ray Bradbury) shows you how a demented mind makes bobbing for apples a very grisly game.
Graveyards and haunted houses, vampires and ghouls, messages written in blood, and jack-o-lanterns alive with menace-they're all waiting to grip you with delightful chills of terror in this unforgettably frightening collection of Halloween tricks and treats.
By: Paul Melniczek
"Frightful October" takes you across shadowed cornfields and along the twilight streets of suburban neighborhoods, beneath dark forests and through haunted houses, in this short story collection centered around Halloween and the darker aspects of the fall month. These chilling tales can be whispered before an autumn bonfire, or in the confines of an evening chair, but regardless of the surroundings, the terrifying atmosphere has already been set in place, and you're the invited guest. You'll have shivers crawling your spine, as you turn each dreadful page of this wickedly delightful book.
As I stated above this is in no way an exhaustive list of every single Halloween anthology out on the market, but I do personally own these ones in particular. If there are any out there that I am missing, please remind me in the comments below. Also here on the countdown we will still be featuring Halloween themed novels, Halloween texts with historical value, and grab-bag Halloween books. (this will make sense when you see them)
Also the covers you see above are the ones that I actually own, but because of the age of some of these books there have been other covers printed during later reprints. All of the book synapses featured above were taken from the back of their respective book covers. And yes I know one of the bigggest Halloween anthologies of all is missing from this list, and yes I do own it. The reason it isn't on here is because I feel it deserves a post of it's own. Only 43 more days until the night of nights......